ORDER UV WATER PURIFIERS
$5 FLAT RATE SHIPPING
The Water Safe Pro UV water purification and filtration systems provide a full line of ultraviolet water purification systems for home, boat, RV, emergency and disaster relief applications. By combining carbon block filtration and the power of germicidal UV, these systems remove chlorine, E. Coli, coliform bacteria, viruses, algae, foul tastes and odors. Water Safe Pro uv water filter systems provide safe, clean water from nearly any fresh water source.

Our Water Safe Pro family of products includes systems designed to meet the specific needs of our diverse customer base to be installed in a home, boat, RV or used in emergency situations. Whether your water source is municipal, well, cistern, pond, lake or stream, we have the right water purifier system for you. Every water filter unit exceeds World Health Organization and U.S. EPA purification standards.

All order cancellations are refunded less 3.5% to cover transaction fee.

$5 FLAT RATE SHIPPING on All Models to the continental US. For orders to be shipped outside the US, call or email for quote.


Due to parts issues our units are discontinued.


SURVIVOR Price: Unavailable
12V DC UV Water Purifiers
No Case
More Information about this System
SURVIVOR TO GO Price: Unavailable
12V DC UV Water Purifiers
With Hard Case
DISCONTINUED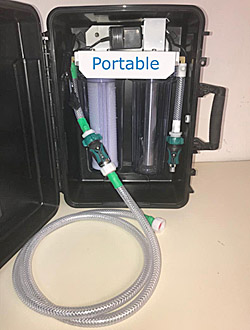 PORTABLE 200 Price: Currently Unavailable
120 AC UV Water Purifiers
More information about this System
PORTABLE 212 Price: Currently Unavailable
12V DC UV Water Purifiers
DISCONTINUED