SURVIVOR PRO Portable UV Water Purifier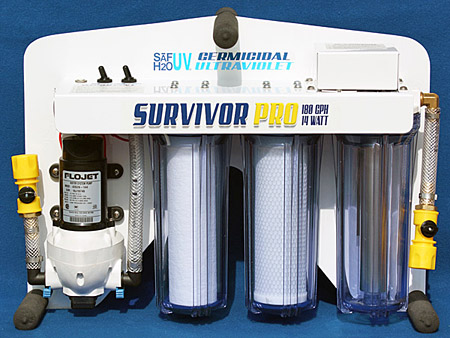 Perfect for Emergency Water Filtration

Able to Purify Water From Fresh Water Sources

2.9 GPM Flow Rate

Portable in a Protective Hard Case

Includes Spare Water Filters and Lamp

12v DC leads with Alligator Clips Draws 6 amps

Separate Switches For the Lamp and Pump

50 PSI Self-Priming Flojet 3526 Pump

Mesh Screen on intake hose To Reduce Sediment Uptake

Inlet and Outlet Hoses With Quick-Connect Fittings

4 Stage UV Water Purifier System

1 Micron, Sediment Prefiltration

.5 Micron, Carbon Block Filtration

Germicidal UV Disinfection

Lab Certified Effective UV Sterilizer

Exceeds WHO Filtration Requirements

304 Stainless Steel UV Chamber

Fully Assembled Ready to Use

24w x 19.5h x 8.5d, 30 lbs

Designed for Professionals - Useful for Everyone: The Survivor Pro emergency water filtration system is designed at requests of search and rescue personnel, survivalists, emergency first-responders and customers concerned with the safety and reliability of international and domestic water supplies. To accomplish this we have incorporated our proven Model 512 System into a complete portable water filter system. It includes many safety and convenience features making it perfect for field operations - a self-priming 12 volt Flojet pump, separate switches for both pump and UV light chamber, 'glove-friendly' quick release hose and power connections, 'alligator' -style power clips, a sediment screen on the included inlet hose to extend the life of system filters, and easy to grip handles and a protective case for quick system relocation.

Just Add Water and 12v Power: The Survivor Pro can produce nearly 180 gallons of safe and clean drinking water per hour while drawing on 6 amps of power. With an automotive/RV/marine battery providing the power, if run constantly, it can produce over 2,800 gallons before the battery needs to be recharged - or enough water for more that 350 people to survive for a week in an emergency situation.

Water Treatment For Your Home and Family: In a disaster or emergency situation, the needs of private individuals and families are not unlike those of emergency responders in the field. It is for this reason that we designed the Survivor Pro system to out-perform other emergency water filtration systems and it comes an affordable price. Replacement filters and lamps are readily available and relatively inexpensive. Easy to Use Almost anyone can be trained under one minute how to operate this UV system. Simple and straightforward, any member of your friends or family could be put in charge of providing clean water for your family or community.

Portable, Durable, Survivable, Shelve-able: The Survivor Pro comes housed in a waterproof case which carries the manufacturer's lifetime guarantee. Shelf Life = Decades With the excellent stability of the components this system should outlive its owners if stored in non-extreme conditions.

Case Colors Black/Orange/Green/Red/Yellow: Due to current demand, we are providing Survivor Pro systems to private individuals/organizations in Black Cases, with orange reserved for emergency/relief organizations which require them. Other than color, there is no difference between the cases. If you have a specific color requirement, please contact us for availability. Use a Deep Cycle Battery if Possible: We recommend using this system with a 'deep-cycle' RV or marine battery, available at nearly any local automotive or department store. In the event of an extended emergency, these batteries may be recharged utilizing alternative energy sources. Usually finding a battery to use in this situation is not hard. Most areas will have ample sources of 12v batteries from vehicles.

For assistance in creating or purchasing your own emergency water filtration system solution, please contact us.


Survivor Pro Emergency Water Purfication System
Included with your Purchase

Model 512 UV Filter System - 3 Stage Filration

12v FloJet 2.9gmp pump

Unit and Pump are attached to Stand with Carry Handles

3' Intake Hose with Strainer

8' Outlet Hose

All Hoses have Quick Disconnect Fittings

12v Leads with Alligator Clips

Filter Housing Wrench

Hard Case for Storage and Transport

System is Fully Functionable - Ready to Use Right Away

Extra set of Spare Filters and Lamp are included

Click Photos Below to Enlarge